Ukaga pursues interests in real estate, music and fashion design
Real estate, music production and fashion are three distinct industries, each requiring a unique skillset and meeting diverse but basic needs – housing, culture and clothing.
Chigozie Ukaga is building a versatile career around all three professions. Ukaga is a senior in real estate property management at University of Wisconsin-Stout. He chose to attend UW-Stout because it's close to his home in Woodbury, Minn., and he liked the polytechnic aspect of a career-focused program to help him achieve his goals in real estate.
"I wanted to study business, but I felt like I'd be better suited if I focused in on one particular field," Ukaga said. "I like real estate because I learn something new every day and it's a people-oriented service industry."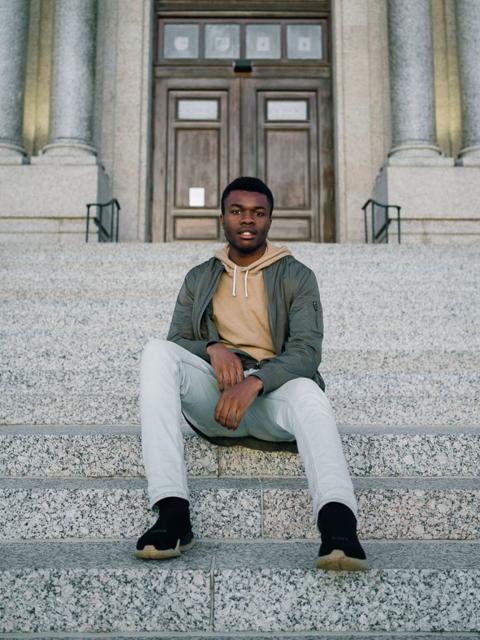 Ukaga plans to graduate in spring 2021, but he is already a licensed REALTOR® with Edina Realty, based in Woodbury. Edina Realty was the only brokerage Ukaga spoke to about hanging his license, which is to come to an agreement with a company to represent from a licensure perspective.
He started as a part-time REALTOR® with the brokerage in August of 2017. Although being a real estate agent is extremely competitive, he enjoys connecting with people and putting his clients' needs first, making lives better one home at a time.
"I want to buy my first property by the time I am 25 years old," Ukaga said. "I definitely have grown and learned a lot throughout my time at Edina Realty and would love to work there longer in a different capacity."
REPM Program Director Fred Prassas knows Ukaga's resolve and ingenuity will lead him to success.
"Gozie is a bright, ambitious individual that lets nothing stop him. If he encounters a hurdle, he finds a way over it. He's always creating great new ideas," Prassas said.
Making an impact through music
Many of Ukaga's new ideas emerge through song. An active recording artist, Ukaga began writing songs at an early age. He started recording original music during his senior year in high school.
He is inspired by his life experiences and people he knows. He shares his personal wisdom and doesn't shy away from his inner-most thoughts.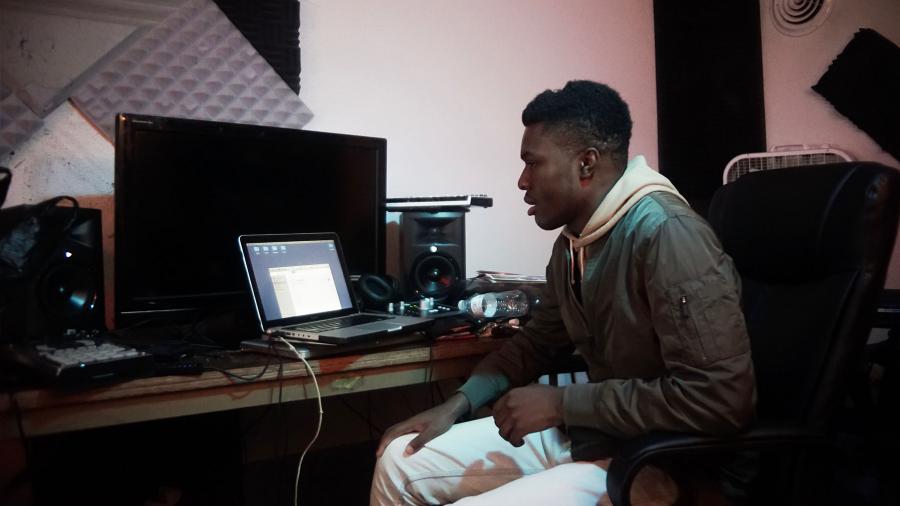 "I think my main message is just the understanding that we'll never have it all figured out and that the human experience is different from everyone's perspective yet analogous at the same time," Ukaga said.
Ukaga produces his music at his home studio under the eponymous label Gozie Ukaga LLC. "In the studio, I sift through sounds and chords until I feel a certain emotion," he said. "My music is somewhat melancholy. It's just an honest representation of my perspective as a human being."
Ukaga's debut album, SHADE EP, was released in November 2019. The album features some of his original songs, including "Intro," a piano composition that exudes his melancholy – chords plinked out like light raindrops on a cloudy day.
SHADE EP also features Ukaga's rap and hip-hop collaborations "Told You" and "Interlude." But the song that means the most to him is "Eke's Interlude," which he produced with his sister Ekeoma.
Conflicting instrumental and vocal rhythms represent a mixture of emotions as Ukaga seeks someone to confide in about the weight he feels. "It was just an honest portrayal of how I was feeling at the time," he said.
Ukaga is mainly a studio artist but he has performed at open mic events around the Twin Cities. He would like to one day participate in Soundset, St. Paul's hip-hop music festival.
"Sharing my music is a means to give the records a life of their own," Ukaga added. "I think my music acts as a voice of understanding and relatability to my listeners. I want to help write songs for musicians that have the ability to impact people on a larger scale."
Fashion D-E-S-I-G-N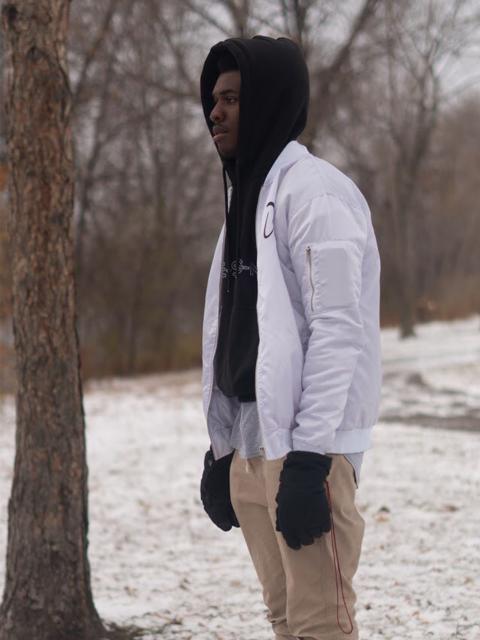 Ukaga and a friend co-founded D-E-S-I-G-N, an apparel line based in the Twin Cities, in June 2018. D-E-S-I-G-N offers high-quality streetwear for men and women at competitive prices. Ukaga and his business partner design the entire line, which is available for purchase online.
"I've always been into clothing, but I truly feel like we all are to a degree. Even as a kid I feel like everyone has a favorite article of clothing or accessory. I just developed a distinct affinity for fashion houses and clothing brands in college," Ukaga said.
"Gozie's a wonderful example of our UW-Stout students that make things happen. It will be great to see his continued success in the future," said Lecturer John Sobota.
As far as making things happen as an entrepreneur, Ukaga doesn't "really think about it that way. I just try things out that look interesting and attempt to get good at them."
"I hope that I can be successful in real estate, music and fashion," Ukaga said. "But I may just focus in on one or two eventually. I think my pursuit of happiness will ultimately guide me to where I'm supposed to be."