Bright, comfortable space includes huddle room, interview room and smart board
University of Wisconsin-Stout senior real estate development major Haley McLean worked on her laptop computer on assignments as she studied recently in the study lounge of the Weidner Center, a new space in Heritage Hall.
"I am in here just about every day," said McLean, of Mondovi. "I like that it is quiet and secluded."
The study lounge opened this fall through $500,000 in funding from Dean Weidner, who founded and owns Weidner Apartment Homes of Kirkland, Wash. The lounge includes tables and chairs, lounge chairs and sofas, as well as a huddle room area with a smart board for students to meet in small groups or for clubs to hold meetings. There are also two offices, one of which is used by Weidner Center Director Fred Prassas, associate professor and program director of the real estate property management undergraduate program, and an interview room. The space was a classroom, remodeled into the lounge at room 417 Heritage Hall.
"We wanted to do something for that would highlight Mr. Weidner's commitment to the students," Prassas said. "We wanted a place where students could relax and still be close to the Weidner Center for Residential Property Management. It's quiet. It's got updated heating, ventilation and air conditioning so it's comfortable. Everybody feels like there is a space that belongs to the program now."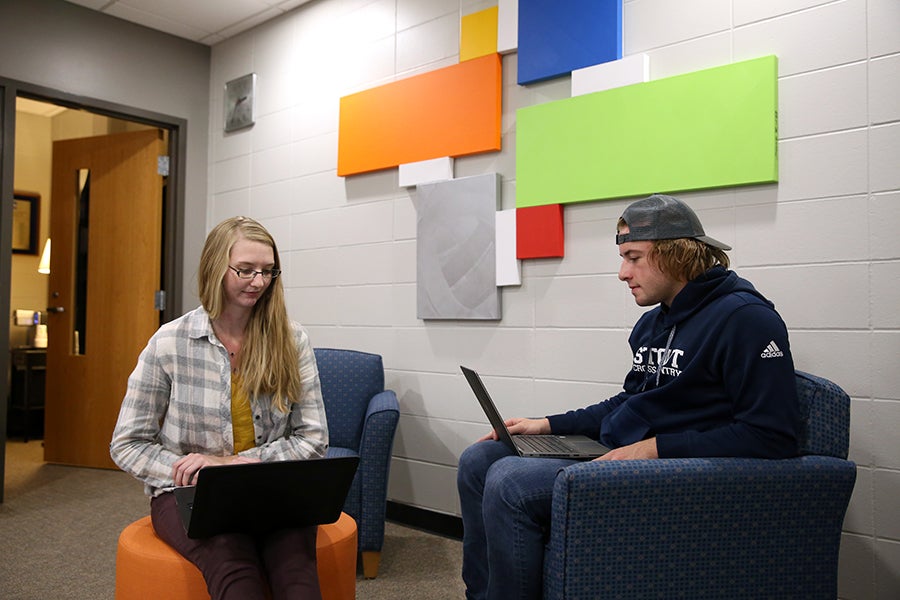 The Weidner Center for Residential Property Management started in 2014 with a $1 million gift from Weidner in 2012. The center provides a one-of-a-kind UW-Stout interactive learning environment. It features seven round tables, each set up like a business board room. Each table is connected to its own smart board to provide a realistic, cutting-edge business setting. Weidner's donation also provides scholarships totaling up to $20,000 a year.
UW-Stout is one of three four-year universities in the U.S. where Weidner has made major donations for property management programs, the others being Ball State in Indiana, the University of Alaska-Anchorage and most recently Oklahoma State University.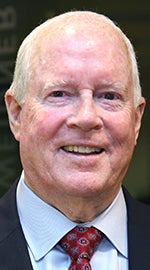 The lounge features bright colors, Prassas said. "We wanted bright colors to kind of follow what a trend in hotel lodging is doing for their social areas," he said. "Bright colors tend to stimulation interaction."
Real estate property management junior Lizzie Stanford, of Siren, said she visits the lounge several times a week. "I use it a lot," she said. "It is just quiet and a good place for studying. I like that it's bright. It looks really good."
Matt Oakland, of Menomonie, a junior in real estate property management, visited the lounge for the first time recently. "It is really nice," he said. "I didn't realize there were all these nice tables and comfy furniture here. The tables have a lot of space, so you can spread your stuff out."
With 85 students, UW-Stout's property management program is the largest of its kind in the U.S., said School of Hospitality Leadership officials. The employment rate or continuing education of real estate property management graduates is 100 percent, higher than UW-Stout's 98.2 rate.
Weidner Apartment Homes is a multi-faceted real estate investment and management company, with over 50,500 apartment units located in 11 U.S. states and four provinces of Canada. Weidner is the 15th largest private owner of apartments in the U.S., according to the National Multifamily Housing Council's 2018 50 largest apartment owners rankings. In addition, Weidner owns and manages about 396,000 square feet of commercial, retail and office space.
UW-Stout is Wisconsin's Polytechnic University, with a focus on applied learning, collaboration with business and industry, and career outcomes.